Due to COVID-19 and the increased need in our community, Community Ministry distributes food and clothing on selected Saturday mornings from 9-11am. No advanced registration is required. Neighbors driving cars should enter the alley from Granby Street, please wear a mask and remain in your vehicle. A table for walkers is located along Meadow street at the alley.
What to do when you arrive:
If you are driving a car, please enter the alley behind 1925 Grove Avenue from Granby Street. The alley will be one-way traffic only while we are open. Please stay in your car.
If you are walking, we will be giving out bags of food from the alley door area (by the glass atrium at the back corner of the church building). Please allow 6 feet between you and others while you wait.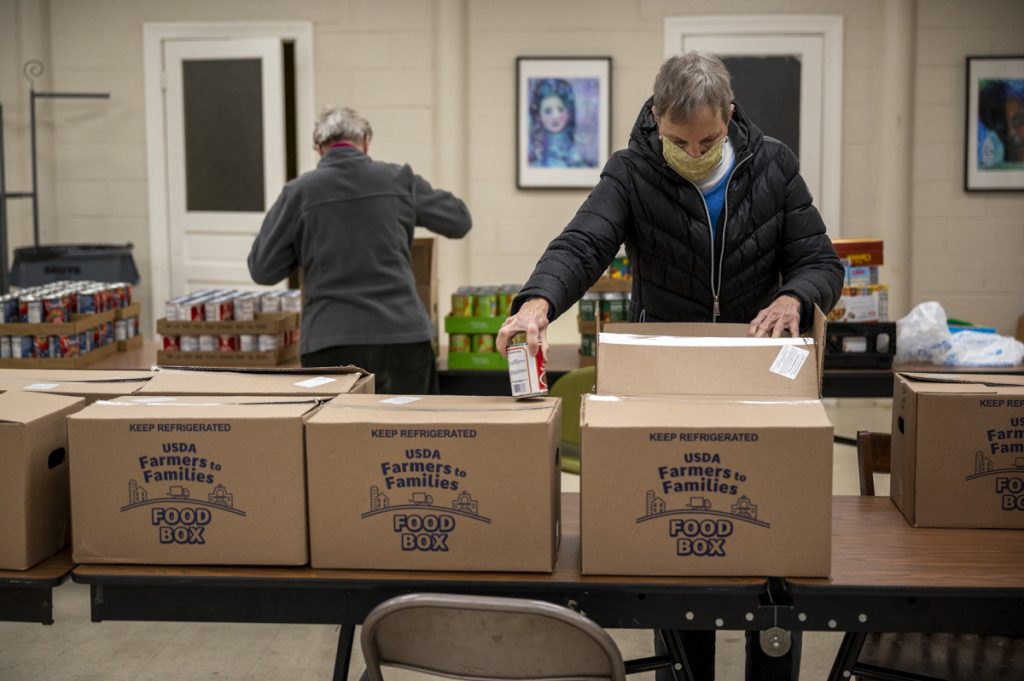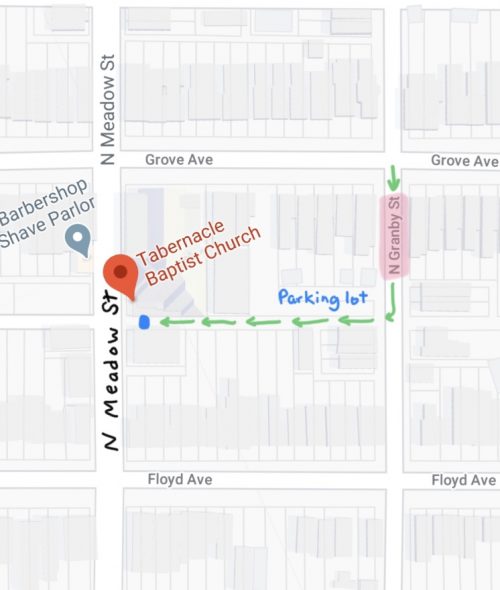 Our goal is to provide you with at least 3 days worth of emergency food. The Clothes Closet is not available during this time.
Qualifying senior adults (age 60+) will be eligible to receive one 30-35 pound supplemental food box each month. Please note: currently we can only distribute CSFP boxes to previously registered senior adults. If you are not registered, we can register you to begin receiving assistance in future months.
---
Volunteer Guidelines
In order to minimize contact, we are packing bags of groceries on Fridays for the Saturday distributions. Read the volunteer guidelines and sign up using the calendar below if you would like to help! Email our Community Ministry Director, April Kennedy, with any questions.
We welcome volunteers who are taking personal precautions to reduce contact with others during this time. If your household would like to serve together during this time, it is possible to do so without having other volunteers present.
If your household has underlying health concerns, a high contact job, or is not taking social precautions, we ask that you only volunteer in zero-contact ways such as phone calls.
donations
We welcome donations of nonperishable food, toiletries, and other essentials such as diapers, feminine products, and dish soap. If you can share some of these necessities, donations can be left at Tabernacle Baptist Church, 1925 Grove Avenue, Richmond, VA. Email April to coordinate a drop-off on Wednesdays or Fridays.
Our greatest needs right now are:
Reusable grocery bags
Pop-top soups or entrees
Small jars of peanut butter
1 lb packages of spaghetti noodles
Spam
Protein Drinks
Electrolyte powder
Cases of water
Peanut butter or cheese cracker packs
Please check the TAB Weekly for other items that are needed
Upcoming Opportunities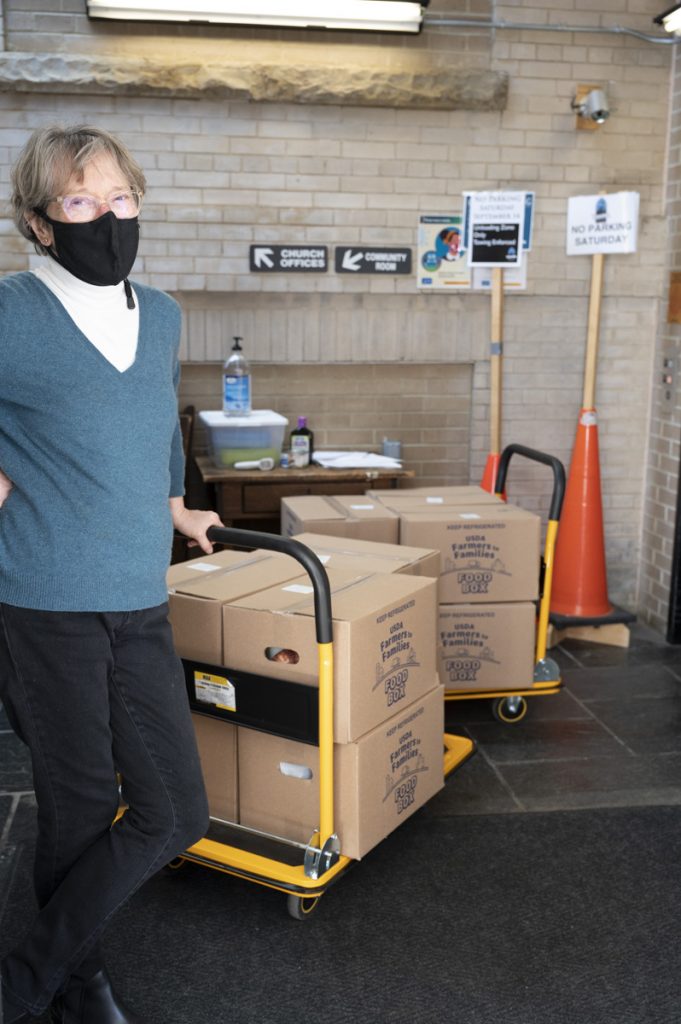 HISTORY OF OUR COMMUNITY MINISTRY
In 1978, Tabernacle congregants began collecting food to be handed out to those in need. This would be the beginning of a robust Community Ministry. In 1998, the church partnered with the local food bank, now known as FeedMore, to participate in a USDA program called TEFAP, which provides emergency food assistance. This program is designed to give 2-3 days worth of food to neighbors in need.
The TEFAP distribution has grown from an average of 19 families each month to an average of 90 families each month as of early 2020. While the pantry was limited to two zip codes for many years, in late 2017, that limitation was removed. Today, we serve neighbors from at least 27 different zip codes.
Our mode of distribution has also changed in recent years. For many years, the food pantry provided pre-packed bags of food for our neighbors. In 2018, the change was made to a choice pantry. In this model, neighbors are able to shop from available food, to better meet their needs and preferences. A choice pantry also gives us more opportunities to form relationships with our neighbors. While our neighbors wait to shop, a full breakfast is offered, and on any given Second Saturday, you will see neighbors and volunteers visiting over around tables while they eat.
A high percentage of neighbors coming to the food pantry in recent years have been seniors. In 2018, we began an additional program, Commodity Supplemental Food Program (CSFP), which is specifically for qualified seniors 60 years and older. CSFP provides a supplemental box filled with food with senior dietary needs in mind—such as low-sodium canned vegetables and sugar-free canned fruit.
As a TEFAP and CSFP pantry, we are able to better serve and meet the needs of the community. With the help of FeedMore, food and monetary donations from Tabernacle's congregation, and special collections from the Richmond Concert Band and the community, we are actively participating in feeding those in need. This is what Jesus called us to do—to actively participate and engage in the lives of others, especially those in need.
The food pantry cannot be present and make a difference in the lives of our neighbors without help. There are many ways to serve within the Tabernacle Community Ministry; see the event calendar to find ways to get involved. Donations are also appreciated; you can find a list of current needs at the top of this page.
As we continue to transition and grow, please pray for this ministry and the community it serves.
USDA Nondiscrimination Statement In accordance with Federal civil rights law and U.S. Department of Agriculture (USDA) civil rights regulations and policies, the USDA, its Agencies, offices, and employees, and institutionsparticipating in or administering USDA programs are prohibited from discriminating based on race, color, national origin, sex, disability, age, or reprisal or retaliation for prior civil rights activity in any program or activity conducted or funded by USDA. Persons with disabilities who require alternative means of communication for program information (e.g. Braille, large print, audiotape,American Sign Language, etc.), should contact the Agency (State or local) where they applied for benefits. Individuals who are deaf, hard of hearing or have speech disabilities may contact USDAthrough the Federal Relay Service at (800) 877-8339. Additionally, program information may be made available in languages other than English. To file a program complaint of discrimination, complete the USDA Program Discrimination Complaint Form, (AD-3027) found online at: http://www.ascr.usda.gov/complaint_filing_cust.html,and at any USDA office, or write a letter addressed to USDA and provide in the letter all of the information requested in the form. To request a copy of the complaint form, call (866) 632-9992. Submit your completed form or letter to USDA by:(1)mail: U.S. Department of Agriculture Office of the Assistant Secretary for Civil Rights1400 Independence Avenue, SW Washington, D.C. 20250-9410;(2)fax: (202) 690-7442; or(3)email:program.intake@usda.gov. This institution is an equal opportunity provider.