Welcome to Tabernacle Baptist Church. If you've never been with us or it's been a long time, welcome!
Please note that the information here regarding Covid-19 safety is created by our Safety Protocol Team using the latest data and the advice of medical professionals. It will change over time so check back for new information. See our Covid-19 updates page for more.
Are you meeting in-person?
Yes! We are re-entering the building for hybrid worship (both on Livestream and in-person) in May of 2021 after over a year of being away! Please join us in whatever way you feel comfortable.
How do I prepare for in-person Worship?
The week before the service, we ask that you RSVP using each week's Sabbath page. Access this week's page here. This allows us to do contact tracing and ensure that we don't go over capacity.
If you develop symptoms or have exposure between the time you RSVP and when the service starts, we ask that you stay home and join us online this week.
As a reminder, everyone in the building will be asked to observe the following guidelines:
• Wear masks while inside the building.
• Maintain social distancing (six feet from people not in your household).
• Maintain proper hygiene (wash hands, avoid touching face, etc).
• Stay home if ill or showing possible symptoms.
How do I come into the building for Worship?
When you arrive at the church, both the alleyway door (beside the elevator) and the door leading directly into the sanctuary on Grove will be open starting at 10:30am. As you enter, a volunteer will make sure your name is on the church's pre-registration list, ask you three COVID screening questions and make sure everyone has a mask. We will leave some spots open for guests that do not know about, or had trouble accessing the pre-registration system, but we do want to keep the number in the sanctuary to 30 percent capacity. (Please note that temperature will not be taken. CDC has changed recommendations as taking temperatures is not a good indicator of COVID.)
When you finish the screening process, you will go directly to your seat. On the end of each pew is a sign letting you know which pews are open. We have created a seating system that will allow 6 feet separation for each family unit. It is absolutely fine to visit with others before church start, but please respect social distancing.
During worship there will be congregational singing and a live choir! The choir will be in the balcony and each singer has been fully vaccinated. When singing, our worship leaders will be unmasked. When they are not singing, these singers will be masked and socially distanced. During congregational singing we ask that you keep your mask on and sing softly.
We will not pass the offering plate. We ask that everyone stay masked the entire service.
Thanks to a generous gift from Bill Braden, the spaces we will be using all have ionizers to help better ventilate the air. These areas include: the sanctuary and the classrooms on the sanctuary floor, the fellowship hall, the blue room and the Welstead class off of the blue room. See this article for more information on our ionizers.
As we return, let us do so thinking about one another.
Bathrooms will be open during worship.
For the month of May there will be no children's programming. We will reconsider for June.
For the month of May there will be no in-person Sunday School. We will reconsider for June.
Where can I find more information about your Covid-19 protocol?
On the Covid-19 Updates Page, you will find our Covid-19 Safety Protocol Document, as well as updates and reports from our Safety Protocol Team. This dedicated group has been monitoring the latest data to keep us safe and on the same page. While government regulations may change week-to-week, we trust this team to help us navigate our way through a world in which we must balance our God-given need for community and our responsibility as Christians to care for one another.
How do I participate online?
You can find our services on Livestream. We encourage you to join live and participate via the chat, and services are also available for you to watch later.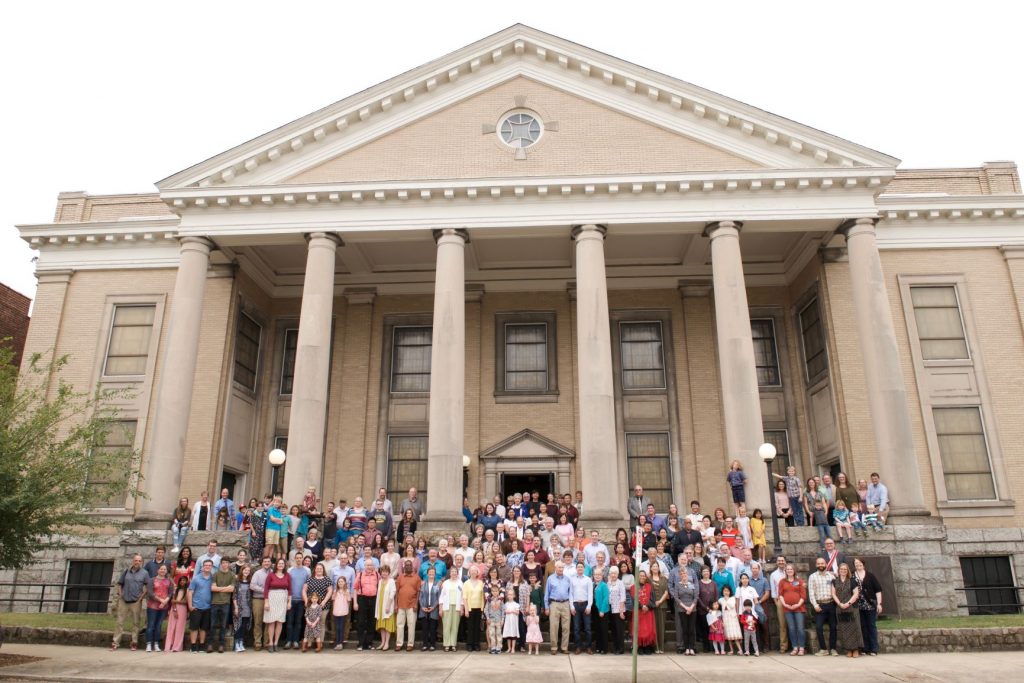 What if I'm not a Baptist? Should I still come to Tabernacle?
Absolutely! People from various denominational backgrounds including Catholic, Presbyterian, Methodist, Episcopalian, the United Church of Christ, and non-denominational have chosen to make Tabernacle their spiritual home. If you'd like more information on what it means to be Baptist click here, but keep in mind that we welcome everyone to attend and join our church. We don't believe you have to agree about everything in order to worship God together.
What if I'm liberal/conservative/etc? Should I come to Tabernacle?
Yes. People at Tabernacle span the spectrum from theologically liberal and moderate to conservative. Those who are affiliated with the Democratic and Republican parties worship together on a weekly basis. We don't always agree about everything, and we don't want to. That would be boring and inconsistent with how we interpret the Jesus of the Gospels. We believe every Christian is a priest and is able to interpret scripture with God's help, and that everyone's opinion and contribution is essential and valid. Diversity makes us stronger because we have the opportunity to learn from each other. We encourage you to read the Statement of Welcome. We adopted the statement after reaching consensus in the Winter of 2017.
You don't have to think like everyone else does to be welcome here. That's not even possible. Tabernacle is a safe place to wrestle with important issues and express doubt.
---
What do you have for my children?
Tabernacle was founded 130 years ago as a Sunday school for children in the country who didn't have a church. (Back then, the Fan was the country). Today we remain true to that identity by being a congregation deeply committed to loving and serving children.
See our children and youth pages to find out what each ministry is doing in light of the pandemic and stay tuned for more as we continue to open up.
Where should I park?
There are several places to park.
Please feel free to park on Grove Avenue just in front of the Sanctuary. These spots are reserved for you, our guests.
The main parking lot is on Meadow Street between Grove and Floyd Avenues, directly across the street from the main church building.
There is a smaller parking lot behind the church that can be accessed from the alley way between Grove and Floyd Avenues on Granby Street.
The FanTastic Thrift Store, located just one block south of the church on Meadow St. and Main St., graciously allows us use their parking lot on Sunday mornings. There is usually plenty of parking available here.
If all else fails, there is plenty of street parking in the Fan on Sunday mornings.
What should I wear?
Wear whatever makes you feel comfortable. We will accept you for who you are no matter what you're wearing. On any given Sunday you will find people wearing anything from jeans to suits and everything in between. We gather together to worship and fellowship, and we can do that no matter what type of clothes you're in.
What else do you do on Sundays?
At Tabernacle, we believe that Sunday is more than just a one-hour service. We devote ourselves to the spiritual practice of Sabbath, a radical day of worship and rest. On this day we participate in a communal worship service at 11am, and in addition, we offer materials and groups for quiet meditation, prayer, and bible study with small groups. See our Sabbath page for more information.