Welcome to Tabernacle Baptist Church! We're excited that you would like to join us for worship. We know how daunting visiting a new church can be, so we would like to make your visit as welcoming as possible. Here are the answers to some frequently asked questions. If you have any more questions please contact pastor@tbcrichmond.org. You can also watch or listen to our worship services through our website.

Currently, due to the COVID-19 pandemic, we are not all gathering in our sanctuary for worship. Our services are streamed live on Sunday mornings at 11am, and are then available to view as recordings. If you are joining us for worship, we would love for you to check in and let us know if there are any ways we can be praying for you, or if you would be interested in participating in leading worship, either virtually or in person.
In order to care for one another and our neighbors, we have decided not to gather as a large group for worship in our building until at least September. We will post updated information when we have made decisions about what worship at Tabernacle will look like this fall.
What can I expect worship at Tabernacle to be like?
The best way to describe our worship here is traditionally creative or creatively traditional. We sing hymns and the doxology, we pray the Lord's prayer together, and the sermons we hear are based on the revised common lectionary. However we are always looking for ways to be creative with art and music.
We strongly believe that the congregation is actively involved in worship, not passive participants. It's not uncommon for our congregation to take part in responsive readings and we are often led in worship by members of the congregation. It's also not uncommon for our children and teenagers to pray and read scripture, and whenever someone reads scripture or prays, we fully expect that they'll do so in the language they use in their own home.
What are the people like?
In a word, diverse. We are a city church, and we represent our urban location. The entire economic spectrum is represented here. We are blessed to be an interracial and multi-cultural congregation. People of all ages attend Tabernacle. We have a large group of young adults, and many young families with children.
What if I'm not a Baptist? Should I still come to Tabernacle?
Absolutely! People from various denominational backgrounds including Catholic, Presbyterian, Methodist, Episcopalian, the United Church of Christ, and non-denominational have chosen to make Tabernacle their spiritual home. If you'd like more information on what it means to be Baptist click here, but keep in mind that we welcome everyone to attend and join our church. We don't believe you have to agree about everything in order to worship God together.
What if I'm liberal/conservative/etc? Should I come to Tabernacle?
Yes. People at Tabernacle span the spectrum from theologically liberal and moderate to conservative. Those who are affiliated with the Democratic and Republican parties worship together on a weekly basis. We don't always agree about everything, and we don't want to. That would be boring and inconsistent with how we interpret the Jesus of the Gospels. We believe every Christian is a priest and is able to interpret scripture with God's help, and that everyone's opinion and contribution is essential and valid. Diversity makes us stronger because we have the opportunity to learn from each other. We encourage you to read the Statement of Welcome. We adopted the statement after reaching consensus in the Winter of 2017.
You don't have to think like everyone else does to be welcome here. That's not even possible. Tabernacle is a safe place to wrestle with important issues and express doubt.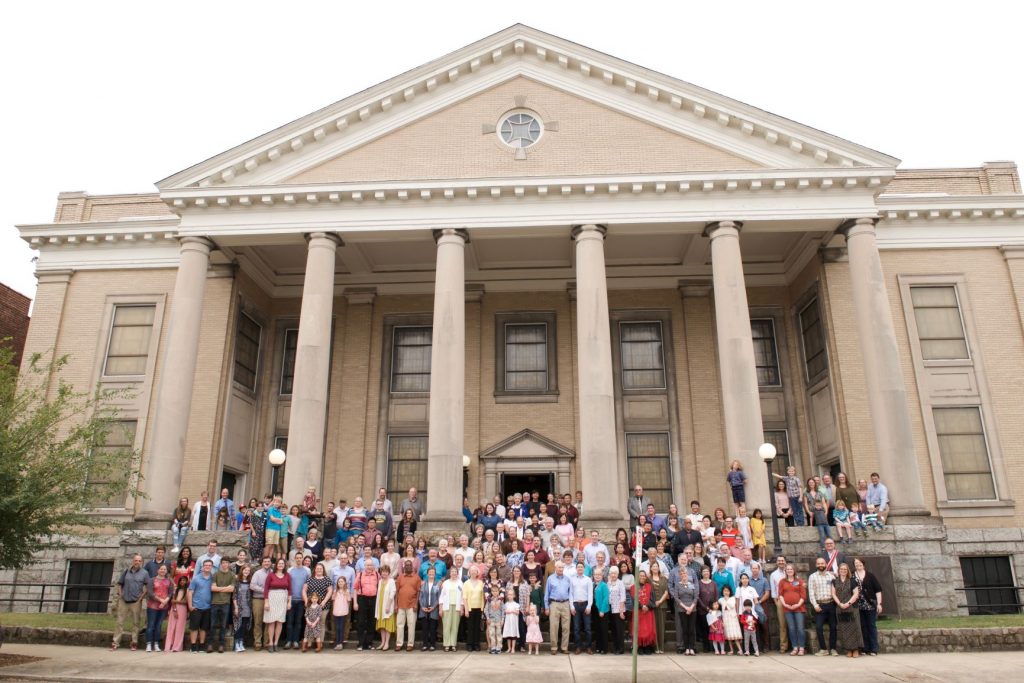 ---
What do you have for my children?
Tabernacle was founded 130 years ago as a Sunday school for children in the country who didn't have a church. (Back then, the Fan was the country). Today we remain true to that identity by being a congregation deeply committed to loving and serving children.
We offer nursery from infant through pre-k on Sunday and Wednesday.
On Sundays we offer Sunday School classes for children and youth at 9:45. Before service starts at 11, feel free to pick up one of the worship bags located under the nametags in the hall. Several bags are marked "guest." These bags contain a Children's Bible and bookmarks to mark that day's readings and the hymns for the day. It also contains crayons and an activity sheet. It's perfectly okay for your kids to color during the service.
Shortly before the sermon, our children in grades K-2 leave the sanctuary for Worship Explorers. They play games and learn an age-appropriate lesson based on the passage our pastor is preaching on, and will return during the final hymn.
On Wednesday nights, children and youth participate in choirs and Bible studies.
Where should I park?
There are several places to park.
Please feel free to park on Grove Avenue just in front of the Sanctuary. These spots are reserved for you, our guests.
The main parking lot is on Meadow Street between Grove and Floyd Avenues, directly across the street from the main church building .
There is a smaller parking lot behind the church that can be accessed from the alley way between Grove and Floyd Avenues on Granby Street.
The FanTastic Thrift Store, located just one block south of the church on Meadow St. and Main St., graciously allows us use their parking lot on Sunday mornings. There is usually plenty of parking available here.
If all else fails, there is plenty of street parking in the Fan on Sunday mornings.
Where are the church entrances?
There are three main entrances into the church on Sunday mornings.
We have an entrance with an elevator in the Meadow Street Alley Door (look for the glass atrium). This is the best door for you to use if you visit during weekday office hours or require an elevator to enter the sanctuary. Feel free to use our loading zone in the alley to unload passengers before parking.
The glass doors on Meadow Street open into the main hallway.
The wooden doors on the right side of the portico on Grove Avenue open into the sanctuary.
What should I wear?
Wear whatever makes you feel comfortable. We will accept you for who you are no matter what you're wearing. On any given Sunday you will find people wearing anything from jeans to suits and everything in between. We gather together to worship and fellowship, and we can do that no matter what type of clothes you're in.
Sunday School is from 9:45 to 10:45 throughout the building, and worship begins in the sanctuary at 11:00. The service is usually finished no later than 12:15.
Small groups meet on Sunday evenings and throughout the week in members' homes throughout the city. They gather for food, fellowship, and study.
On Tuesdays at noon some of us gather for a Bible study in the Conference Room with our pastor.
On Wednesday evenings we meet in the Fellowship Hall (basement level) at 5:00 for dinner. The suggested cost is $5 for adults and $3 for children and students of any age. We have a family maximum of $15. This is only the suggested cost; please never allow inability to pay to prevent you from joining us for dinner. At 6:00 Children, Youth, and Adults gather in spaces throughout the building for discipleship groups. This is over in time for choir practice to begin at 7:15.