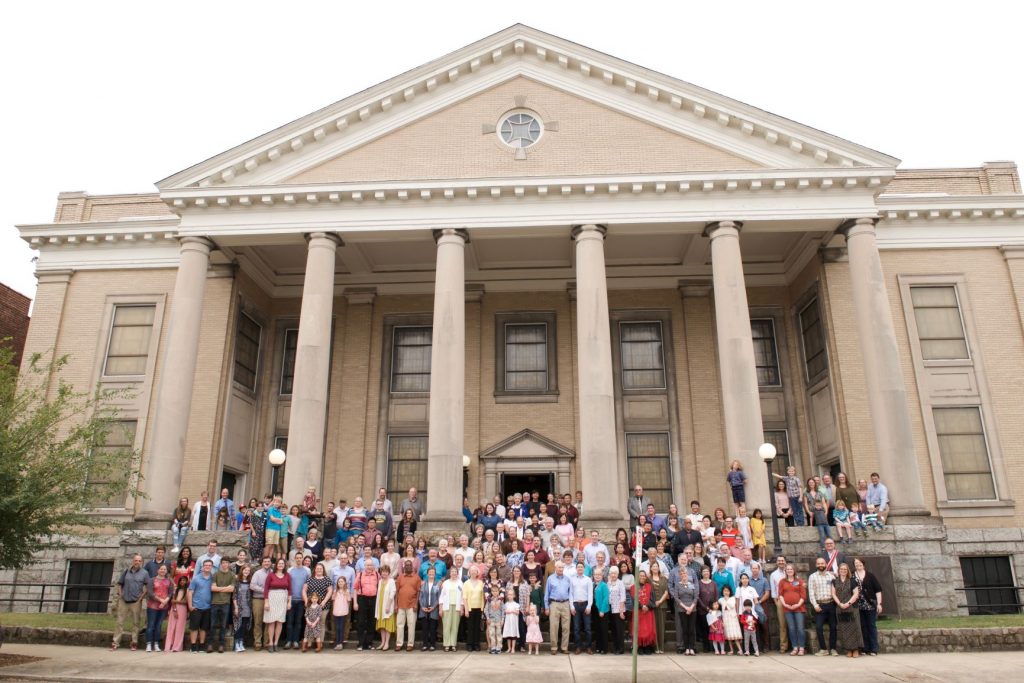 we're glad you can join us for worship!
We would love for you to let us know you're here. This worship guide is meant to be a companion to our Livestream service. You can join us live at 11am on Sunday morning or watch the recorded service later, following along with the words to hymns, etc. in a separate window or on your phone, or print this guide out if you like!
CALL TO WORSHIP: Psalm 33:1-11
Rejoice in the Lord, O you righteous.
Praise befits the upright.
Praise the Lord with the lyre;
make melody to him with the harp of ten strings.
Sing to him a new song;
play skillfully on the strings, with loud shouts.
For the word of the Lord is upright,
and all his work is done in faithfulness.
He love righteousness and justice;
the earth is full of the steadfast love of the Lord.
By the word of the Lord the heavens were made,
and all their host by the breath of his mouth.
He gathered the waters of the sea as in a bottle;
he put the deeps in storehouses.
Let all the earth fear the Lord;
let all the inhabitants of the world stand in awe of him.
For he spoke, and it came to be;
he commanded, and it stood firm.
The Lord brings the counsel of the nations to nothing;
he frustrates the plans of the peoples.
The counsel of the Lord stands forever,
the thoughts of his heart to all generations.
HYMN #689: "Let Justice Flow Like Streams" (ST THOMAS)
THE LORD'S PRAYER
Our Father, who art in heaven, hallowed by Thy Name. Thy kingdom come, Thy will be done on earth as it is in Heaven. Give us this day our daily bread; and forgive us our trespasses, as we forgive those who trespass against us. And lead us not into temptation, but deliver us from evil. For Thine is the kingdom, and the power, and the glory forever. Amen.
SCRIPTURE READING: Amos 5:14-15, Isaiah 1:10-26, Micah 6:8, Romans 12:9-21, Luke 18:3-8
---
As September approaches, we are excited to introduce Tab Circles: an opportunity to connect with God and one another this fall! One of the things we learned from our summer survey is that a lot of folks who are a part of a small group, Sunday School class, or some other community within TBC have continued to feel connected and engaged, while many who are not part of a group like that have felt more disconnected during the pandemic. Our goal is for Tab Circles to help people find places of belonging, support, and spiritual community while we can't all gather in the building together.
Find more information about what this will look like, and to sign up to join a Circle here!
---

---
The Gather Summer Series is a weekly set of discussion questions and worship guide for you to enjoy in small gatherings of 10 or less, with other church members, or even neighbors. Participate in any way you feel comfortable, whether that be gathering via Zoom, around the fire pit in your backyard, or in your driveway.

This summer, we will actively covenant together in multiple ways, particularly in our physical gatherings in one another's homes. You can find more details related to our expectations, hopes, and practices here.
---
Our Community Ministry is actively serving neighbors on a weekly basis. We have consistently seen about 50 families each week, and sometimes up to 100! If you would like to support this key ministry to our neighbors, our current needs include: